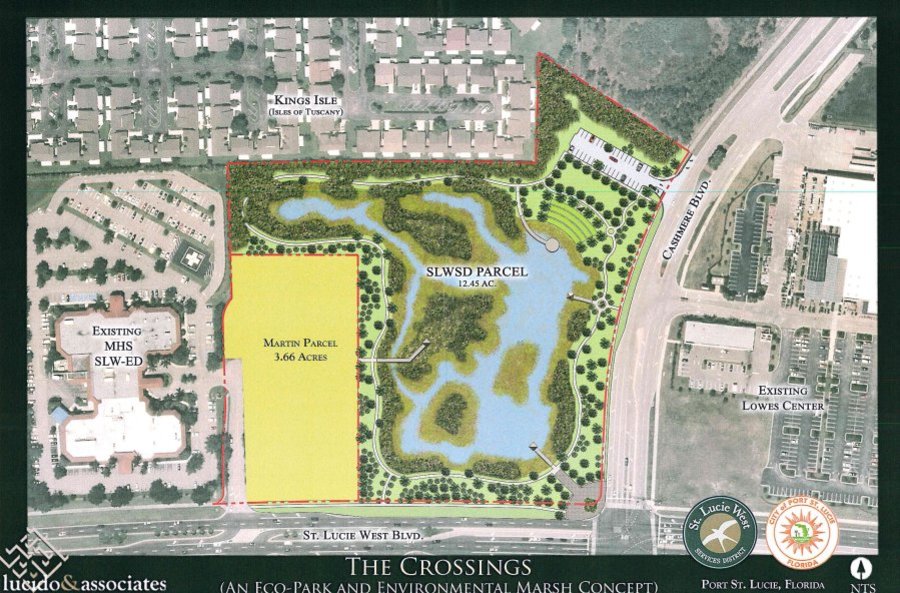 After negotiations between Martin Health, the city of Port St. Lucie and the Services District, Martin agreed to sell almost 12.5 acres for an eco-park containing a wetland and stormwater retention pond for a discounted $4.4 million. The hospital will retain 3.66 acres for future expansion at its outpatient care facility next door.
The eco-park will also help drain land in this area of St. Lucie West by an estimated 4.5 inches during 100-year storms. Shoppers at the Publix shopping center half a mile to the west especially should enjoy drier feet, in a parking lot that's perennially damp.
The eco-park — partly pond and partly a wetland surrounded by hiking trails and passive recreation opportunities — will offer a softer, more attractive entrance to St. Lucie West, Port St. Lucie City Manager Jeff Bremer pointed out. And the plan keeps Kings Isle residents happy, according to Brenda Foglia, the president of the community association.
This article is based on a story by Anthony Westbury that appeared in tcpalm.com on 10/7/2014. Click Here to view the entire article.