WaterPlant960X312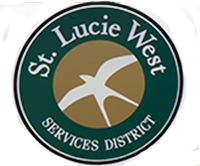 St. Lucie West Services District
St. Lucie West Services District Water Report
We release an Annual Water Quality Report. This report is designed to inform you about the quality water and services we deliver to you every day.
Our constant goal is to provide you with a safe and dependable supply of drinking water. We want you to understand the efforts we make to continually improve the water treatment process and protect our water resources. We are committed to ensuring the quality of our water. Our water source is ground water from the Floridan aquifer. The water is then treated by reverse osmosis, chlorinated for disinfection, fluoride is added to help prevent tooth decay, and phosphate is added for corrosion control.
In 2011 the Department of Environmental Protection performed a Source Water Assessment (SWA) on our system. The assessment was conducted to provide information about any potential sources of contamination in the vicinity of our wells .There are six potential sources of contamination identified for this system with a low to moderate susceptibility level. A SWA report for this system is available at the DEP SWAPP web site: www.dep.state.fl.us/swapp.
We are pleased to report that our drinking water meets all federal and state requirements. If you have any questions about this report or concerning your water utility, please contact Rick Riniolo at (772)340-0220. You may pickup a copy of this report at 450 SW Utility Dr. Port Saint Lucie, Florida 34986. We encourage our valued customers to be informed about their water utility. If you want to learn more, please attend any of our regularly scheduled meetings. They are held on the first Tuesday of the month at 9:00 am at St Lucie West ServicesDistrict main office, 450 SW Utility Dr., Port Saint Lucie, Fl 34986.
St. Lucie West Services District routinely monitors for contaminants in our drinking water according to Federal and State laws, rules, and regulations. Except where indicated otherwise, this report is based on the results of our monitoring for the period of January 1 to December 31, 2012. Data obtained before January 1, 2012, and presented in this report are from the most recent testing done in accordance with the laws, rules, and regulations.
The attached Adobe PDF files below will provide to you the official Water Quality Reports:
St. Lucie West Services District
450 SW Utility Drive
Port Saint Lucie, FL 34986
Tel: (772) 340-0220
Fax: (772) 871-5771
customerservice@slwsd.org
Please call Customer Service
(772) 340-0220
Office Hours are Monday thru Friday 8:00 a.m. – 4:00 p.m. (except on SLWSD holiday's)
Help for Visually Impaired
If you are having difficulty reading any file, please contact our customer service personnel via telephone at (772) 340-0220, Monday thru Friday 8:00 a.m. – 4:00 p.m. or email us at customerservice@slwsd.org and tell us the file you are having difficulty with and we will promptly make the file available to you in Rich Text File (RTF) format.